Breakfast Club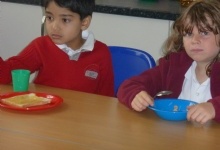 Time to 'toast' breakfast club starting...
Whilst the rest of our pupils were cleaning their teeth this morning, Thameside Breakfast Club was in full swing! Today, (6th September) was our first day. Children came in happily after the holidays raring to go! On offer for breakfast was toast and cereals.
We still have plenty of spaces so if you are interested, please collect an information pack from the office. We open at 8am and run until school starts at 8.45am.
Miss Roseaman