Terrific Tables Day!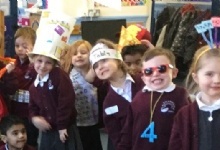 Number Day fun at Thameside today!
Thank you to our Year 5 Exciting Writing Club for this report of what was happening around our school this morning!
Click here to see some pictures and also visit our Twitter/Facebook pages.
Today is Terrific Tables Day at Thameside Primary and we are going to tell you about what has been happening around the school...
In RKS, they are looking at doubling and looking at what they can do with the number 2 using Number Blocks.
In RSC, they are counting back from 20 and doubling with a machine.
Miss Roseaman is drumming with numbers!
In BIG, they are looking at amazing number 7!
In BEJ, they are playing multiplication bingo related to the 7 times table.
In GCH, they are looking at patterns in the four times table.
In Year 1, they are also learning about doubles.
In Year 2, they are learning about fabulous fives!
In GHM, they are playing games using the 4 times table.
In BLE, they are writing a their own picture books based on the 6 times table. They are also investigating patterns, creating multiplication wheels and making six times table Christmas decorations for the classroom.
In BAL, they are showing the accessories that they have made at home to the class so that they can vote for the best one. BAL are also planning their Y5 Enterprise project using their 6 times table. Soon, they are going to try and learn a times table in just 10 minutes! In PE, they are even going to be doing a Greek dance based on the number 6.