Sports Day details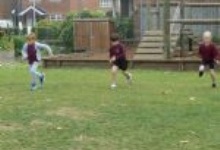 Find out what is going to happen for Thameside's Sports Day 2016...
With Sports Day fast approaching, please find the finalised details below:
9.30-11.30am - Foundation Stage and Key Stage 1
1.15-3.15pm – Key Stage 2
Children will be participating in different activities with their class including a track race, a throw and a jump, with Key Stage 2 children also having a fun race.
These activities will take place on either the field or the area of the playground nearest the field. Children will move with their year group to the different activities and you will be able to move around with them.
After the activities have finished we will be providing a healthy snack and a drink for the children. We will also be selling snacks and drinks for parents/carers and siblings at a reduced rate. You will be able to enjoy these with your children, however, we do ask that that parents/carers for Foundation Stage and Key Stage 1 leave the school premises by 11.45am in order for the children to prepare for lunch. Key Stage 2 children can join their parents/carers once the activities have finished but must stay with them during this time and then leave via the main black gate by the school office.
The children and staff are looking forward to the day and we hope that many of you will be able to join us.