Book Week 2016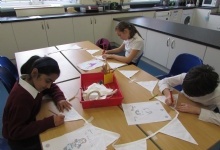 Making book character bunting
This week, Thameside children are taking part in our whole school book week.
As part of the week, all classes are taking part in writing a whole school book which we hope to have published. Children are looking forward to hear the whole staory on Friday!
Some children are also helping us to design our own book character bunting for the library.
Ask your child about why wolves should 'Beware of Boys or Girls'!