Year 6 Enterprise Project!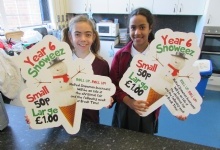 As part of their mathematics' curriculum, Year 6 children have taken part in an Enterprise project selling Snoweez ice-cream to children across the school. Thier project included market research and they are set to make a substantial amount! Well done to the Year 6 team!
Click here to see more photos.