Curiosity Corner Challenge!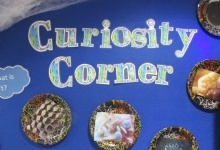 Staff Christmas Challenge!
On Wednesday, after school, staff at Thameside took part in a challenge to spend £5 in a Caversham charity shop on the most 'curious' item they could find!
Thank you to all of the staff who took part and well done to the winners: Miss Chan, Mrs Williams and Ms Hagon.
All of the items purchased have been placed in the school's 'Curiosity Corner' to be used in the new year to inspire some creative thinking, writing and reasonign skills.
If you have any objects (natural or man-made) that you would like to donate, please send them into school for the attention of Mrs Greenaway.
Click here to see photos of the staff in action!