Google Expeditions!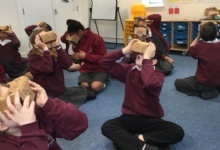 Year 6 visiting Aztec ruins!
With Google Expeditions, students can take field trips to virtually anywhere right from their classroom!
Expeditions allows a teacher acting as a "guide" to lead classroom-sized groups of "explorers" through
collections of 360° and 3D images while pointing out interesting sights along the way.
Thank you to Mrs Ray (our Science leader) for arranging such a brilliant experience for the children!